Istanbul, 31 Agosto.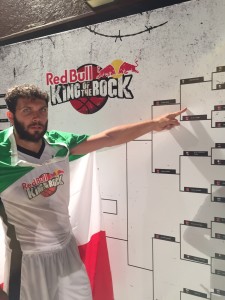 Si ferma agli ottavi di finale il cammino di Maurizio Pavone alle finali del King of the Rock 2015, che si sono svolte a Istanbul lo scorso week end in una fabbrica abbandonata sulle rive del Bosforo.
Dopo aver agevolmente passato il primo turno, il "Pavo" si è scontrato con il campione in carica Kivanç Dinler; Il match è stato molto intenso ma alla fine il 38 enne turco ha prevalso mettendo in mostra un'abilità e una malizia nell' 1vs1 davvero impressionante. Questo gli ha permesso di confermarsi per il secondo anno consecutivo campione King of the Rock 2015.
Per quanto riguarda i colori italiani, le sensazioni sono state più che positive; il "Pavo" è stato l'unico atleta a mettere davvero in difficoltà il campione e nel post match ha dichiarato:
" Mi è mancata un po' più di astuzia. Bisogna abituarsi ad un metro arbitrale completamente diverso dal nostro"
Siamo certi che Maurizio Pavone anche nel 2016 farà di tutto per rappresentare i colori italiani nel King of the Rock, noi del Torneo Armana siamo con lui!
Per saperne di più: Leggi qui.